Hi there everyone. It's been quite a while since I've posted anything in the site. Making coffee has never actually stopped for me, but the writing had unfortunately stalled. But not to worry! My time has opened up now and I'm ready to put in more content into the site.
To begin with, there are a few changes that I think I'd like to make here in this site.
First, as you've probably noticed, is that I'd be writing with more of the word "I" into my posts. Before, I've usually written "we", as if the site is being run by multiple people. Since this is a personal site, I think it's time I start writing more of my own style, rather than a company type of setup. I'll use the "we" or "you" word during the how-to's and tutorials, but for the reviews of coffee roasts, coffee machines, and other things, I'll write it more in the first person. This small change actually excites me as I feel that it'll bring me closer to you as an individual, and we'll be able to break through that corporate divide together.
Second, although I do love coffee, I noticed that in terms of taste, I'm really not up to par with industry standards. So for my coffee reviews, I figured that I'll write it in a new format. First, I'll write the tasting notes of a specific coffee blend. Second, I'll write down what I think I've tasted in the drink. Third and finally, I'll give a score which will in no way affect the tasting notes of the company and my own tasting notes. This will just be a general scores based on how well I think the coffee tastes. So if the tasting note says that a batch has a highly acidic taste, and I taste no acidity, but a really strong bold, almost bitter flavor, I could still give it a high score just because I like the taste.
Third. I've decided to add in a mailing list option in the near future. As there are times when I can't make content on a regular basis, I think it is only fair for those who want to have updates to subscribe to one. I'm still thinking of what I could make as a free download, like a history of coffee or a how-to guide; but I can't decide on what to make yet. Tell me on the comments what you would like so I could have a better idea on how to make and format a great free e-book for you.
Well that's it for now. Expect more content from me in the future. I live and write from the Philippines, so a lot of our coffee products are probably not the same. Blessings abound though; and thanks to my aunties and cousins, I've recently got hold of some coffee from Chicago and Toronto, which I'll be posting reviews on in the next few days. Initially I could say that they taste divine! You see, I've been finishing up a robusta blend in the past month and these new additions are really welcome.
As the months went by, I've been able to gather a great number of coffee making products. Here's a picture of what the lab equipment looks like now.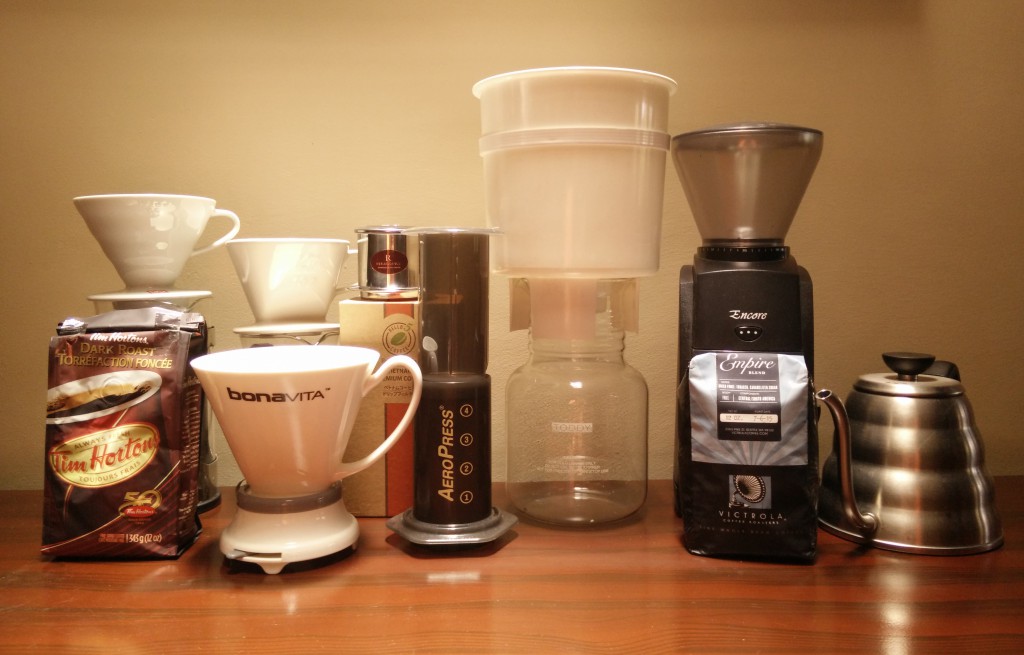 So as you can see, we've got a lot of work to do. A lot of reviews to make. A lot of how-to's to write up. I haven't been this excited about writing about coffee since I bought my first coffee making set (grinder, maker, and boiler).
Expect more from me and thanks for reading. Remember to write in your comments on what type of info-book you'd like to have when you subscribe to my mailing list so I can make a great one for you!