When I started in this home brewed coffee making venture, I stumbled upon a company called EDSA Beverage Design Group. This is the same company responsible for roasting the #YKW blends to the market.
What does #YKW stand for? This is quite a riddle, as not even the baristas that I've talked to quite know what it means. Some say You Know What, others, You know When, or maybe You Know Who. Whatever it is, we know that the coffee they make will be put to the test by their ever growing number of consumers and loyal customers.
Here's some of their blends that I've tasted these past few months.
#YKW Kenya Wakulima Single Origin Coffee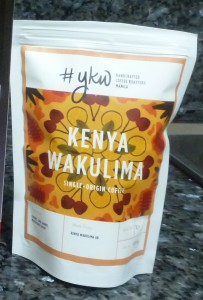 While I was looking around YouTube, I saw a coffee roaster and distributor saying, "Kenya coffee is the best coffee". So when I saw this blend in at #YKW, I had to try it, and buy it.
This was the very first blend that I have ever bought for my home brewing. And all I can is: It did not fail to disappoint!
This batch had a very strong cherry taste. Right at the first sip, you could already taste the fruity flavor; and surprisingly, almost none of the bitter coffee taste that we're all used to could be tasted in the cup. In fact, some might consider it as almost the same as drinking tea.
Aside from the fruity taste, it also had a hint of raw sugar in the cup. I especially tasted this raw sugary taste as the coffee temperature started to cool down.
Without a strong bitter taste, this single origin blend proved to be very quite a treat. If they still make this batch of coffee, I'd definitely go back to EDSA BDG to buy another pack.
RATING: 4.5/5