Time for another coffee taste test. This batch was brought to me by my twin from Australia.
Central Coast Coffee is a small coffee roaster located in New South Whales, Australia. They roast small batches of single-origin coffee, and they also sell coffee equipment. They are an online store and do not have a storefront. I asked my twin to buy me this whole stack of stuff from Central Coffee and they were kind enough to give her some coffee samples to take back here.
Central Coast Coffee Colombian Pitalito Supremo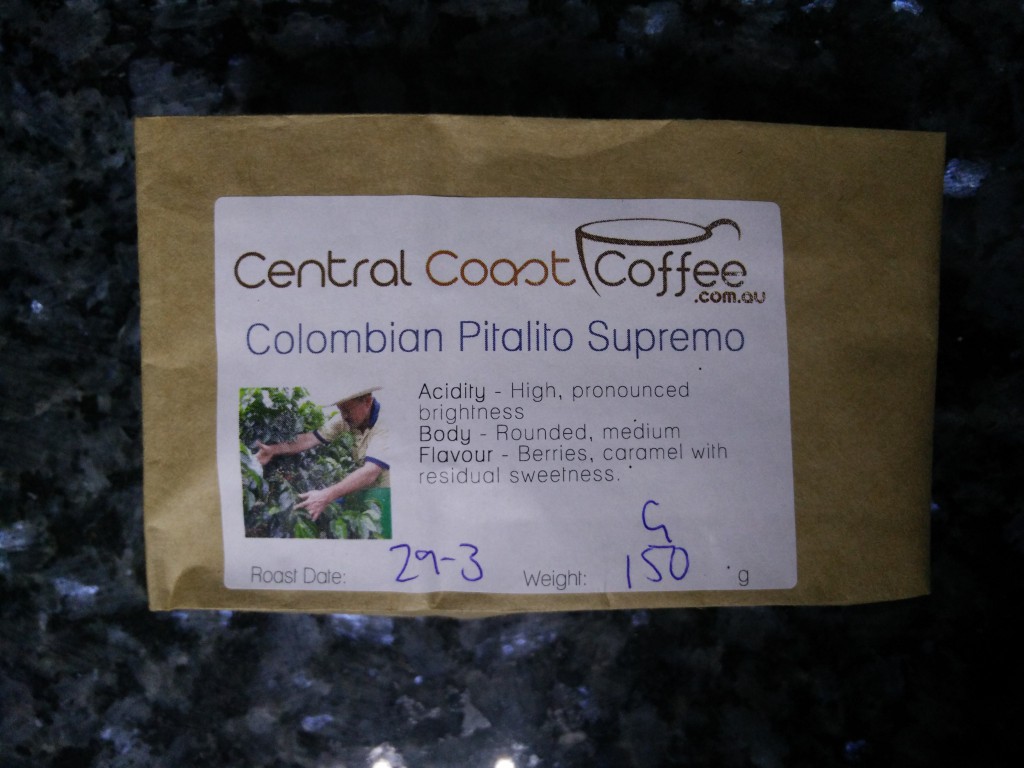 This is one of the two coffee samples that they gave my twin. I've always liked Colombian coffee. It  generally has a rich acidic taste to it. This one does not fail to impress at all!
Pitalito, as it turns out, is a small region in Colombia that produces rich quality coffee beans. Their beans are mostly shade grown, which I must say pretty impressive. You can see more in depth description of Pitalito coffee beans and coffee farms in Central Coast Coffee's site here.
As for the coffee itself, I could hugely compare it to the #YKW Kenya Wakulima coffee that I tasted before. There's a rich acidic flavor to the coffee. And I got that rich berry taste the moment the coffee entered my mouth. As I swallowed the coffee, I began tasting some caramel hints as the aftertaste. This caramel hint became more pronounce as the coffee cooled down, and it added a really good balance to the overall flavor of the coffee.
As for the boldness of the coffee, it was just right. Having a flavor that's too bold will not sit well with the already intricate flavors of the current roast.
It's noteworthy to mention that Central Coast already grinded the beans before they shipped them out. I know that to coffee connoisseurs, this is a big no-no. But we did use up the grounds as soon as we could, and made some pretty good cups of coffee with it. The grind size was an espresso grind, so we had to use the Aeropress to brew the coffee. I think because of this, we were able to extract the great flavor that this Colombian Patalito Supremo batch had to offer. Kudos to you Central Coast Coffee. This was some really good tasting coffee!
Rate: 4.75/5
Have you tried the Central Coast Colombian Pitalito coffee before? Feel free to share your comments and ask for other reviews in the future.