Today, we're going to be looking at the Capresso Infinity Burr Grinder. It's been around for quite a while now. The head company, Capresso, has been around since 1994 and has produced a wide array of innovative coffee machines. The name, according to their site, says that:
"Capresso" combines the words "cappuccino" and "espresso" to produce something new and distinctive in the world of coffee.
You see? We learn something new everyday. Now let's move on with the review.
Product: Capresso 560/565 Infinity Burr Grinder
Price: $99 – $149
Place to buy: Amazon.com
Guarantee: 1 year limited warranty
My Rating: 9 out of 10
The Capresso Infinity Burr Grinder Product Overview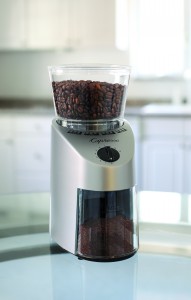 There are different variations that we'll talk about shortly. For now, here are the commonalities of these grinders:
All the Capresso Machines come with 100-watt conical burrs that have 16 grind settings.
They all have the same type of stainless steel, commercial-grade conical burrs that revolve at a slow pace, ensuring the retention of flavor and aroma.
They also have the same bean hopper that holds 8 1/2 ounces or 240 grams of beans; and a grounds container that holds about 110 grams of grounds. Now that's a lot of coffee!
Finally, they all have the same timer-based grinding system, and the same physical measurements.
The Differences between the Capresso 560 and 565 Infinity Burr Grinder
Actually, to make things even more complicated, there are the 560.01, 560.04, and the 560.05 variations to this grinder. The shops might be giving you a headache by putting all these grinders beside each other, but the only difference in all these products is the material used for the housing of the grinder. Here's a list of the types of materials and colors of each model:

Now Let's Look at Some Good Points in This Grinder
A Grinder that Fits Your Budget
At the $100 range, this machine really does put quality and affordability together. We always talk about grind size consistency being the most important thing in a grinder. With 16 different settings giving out consistent grind, this machine will not disappoint.
Perfect Burr Type and Speed Combination
The conical burrs revolve at a relatively slow speed of <450 rounds per minute (RPM). This ensures that the beans retain the aroma and flavors.
Why?
Faster RPMs tend to grind faster, but heat up and re-roast the beans in the process, which loses the flavor profile of the coffee.
Yes, the conical mills of the Capresso might be slower, but at the same time, it helps retain the flavor by making sure the coffee grounds aren't heated and re-roasted.
For more information on how coffee loses flavor due to heat, please look at this article.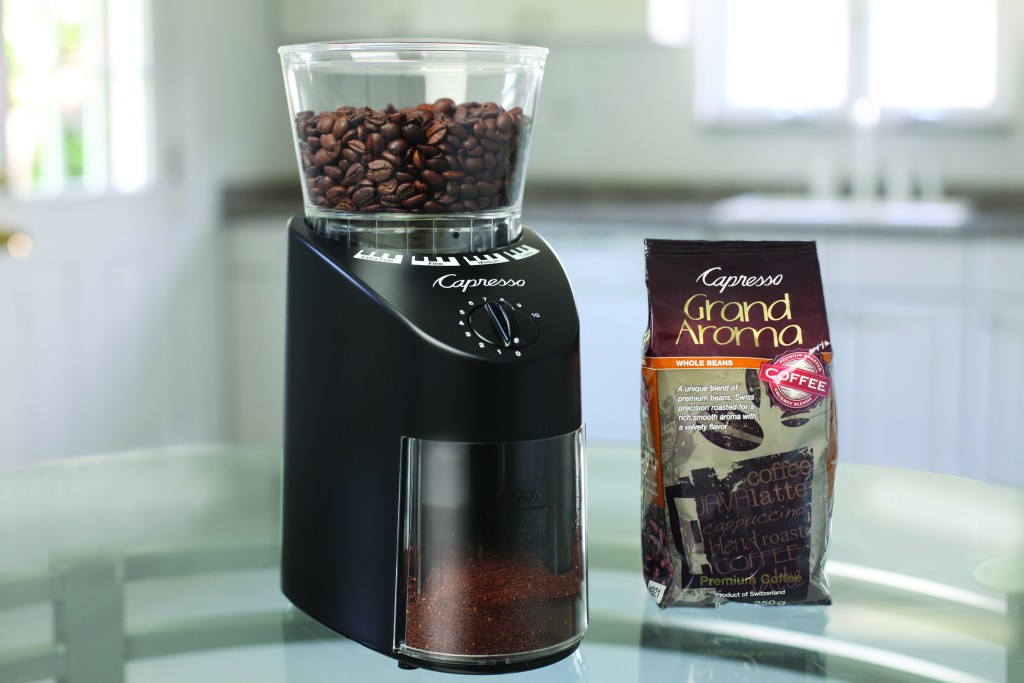 You'll Find that Grinding is a Breeze
Did you ever come from using a blade grinder, where you had to pulse or keep your finger on the grind button to get a grind that would more or less look like the one you needed? We'd never get consistent beans from each batch anyway. I have both a blade grinder and a conical burr grinder, and I can really attest to this statement.
The Capresso infinity does all this for you with a turn of the timer. Just set the grind size and let the machine grind by itself.
Accessing and cleaning the burrs also seems to be easy, and that's a definite plus in this machine!
Less Grind Settings, Less Fuss
Some people want the whole gamut of grind options, but some just want the normal range of things. This is also true for this grinder. It has 16 settings with the following options:
4 settings extra fine
4 settings fine
4 settings medium
4 settings coarse

This might seem a lot for a first time burr grinder purchaser, but trust me, there are other machines out there that have hundreds of grind settings! This grinder can grind well from pressurized espresso machines to your classic French press, and everything in between. So the versatility of this grinder is really outstanding.
So Far So Good, But Now Let's talk About The Bad
Jumping Beans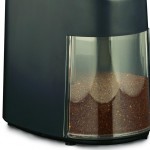 This has been a long time issue with this grinder. It might be because the grounds container is made out of plastic, or that there is some static that's being created from the grinding of the beans, but some people have noted that their coffee grounds jumped all around the place when they took out the grounds container.
There are some solutions suggested, but the most plausible solution I've read is that you should slightly shake the grinder before removing the grounds, so that the static inside the plastic grounds container diffuses.
Wasted Grounds
All burr grinders need some TLC (Tender Loving Care) in cleaning the burrs after using it for a while. And the Capresso Infinity is no different.
While the burr is easy to access and clean, there does seem to be quite a lot of grounds getting stuck along the burrs and the grind chute. It means you'll be cleaning out more grounds when you make your regular maintenance. And you'd probably be wasting a bit more grounds as compared to the other higher end grinders.
Summing It All Up
Before we go to the conclusion, let's look at the Pros and the Cons of the grinder:
Pros:
Consistent grinds
Reduced burr speed to bring out aroma and flavor of coffee
Large range of grind capabilities (pressurized espresso to French press)
Quite small and easy to fit anywhere
Cleaning is easy
Cons:
Cases where beans jump around from the grounds container
More beans wasted
Conclusion
It's easy to see why this machine is consistently voted at the top of the most wanted or essential burr grinders list. There isn't really many other grinders at its price range to give it a run for its money. It's affordable, consistent, versatile, light, and more silent than its competitors.
It's a great grinder for its price!
If you're new to buying an burr grinder, or you've set a $100 budget for a burr grinder, then The Capresso Infinity is the grinder for you!
$100? What About the $125 Stainless Steel Variant?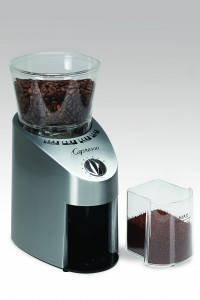 Although the stainless steel variant looks really good and outshines the 2 thermoplastic variants by miles (in terms of looks), the plastic variants are good enough if you're really looking at overall functionality. Reading through all the reviews, they (the plastic variants) have been used from houses to coffee shops, and had no trouble in their performance at all. The motor and burr build quality in these two plastic variants are all the same as the stainless steel variants, and according to reviews, the casings do not look cheap.
If you want your grinder as one of the attractions in your home coffee lab or coffee shop, then by all means, buy the stainless steel version. But for the price tag, you might also want to look at a grinder with more grind settings.
How about you? what are your thoughts on it? Share it on the comments section.